The annual Medicare Open Enrollment period starts on October 15th and runs until December 7th. During this period, individuals already enrolled in Medicare Part A & B (see below to understand the different parts of Medicare) via original Medicare or a Medicare Advantage (Part C) plan can:
Switch from original Medicare (Part A & B, and potentially Part D) to a Medicare Advantage plan (Part C)
Switch from a Medicare Advantage plan to original Medicare (plus a Medicare Part D plan)
Switch between Medicare Advantage plans
Enroll in or switch between Medicare Part D plans
Terminate your Part D plan (if you have other coverage, such as Medicare Advantage)
Understanding the Different Parts of Medicare
Before we jump in, it's always helpful to refresh yourself of the different Medicare plans:
Part A provides inpatient hospital insurance
Part B provides outpatient medical insurance
Part D provides prescription drug coverage.
All Medicare Advantage plans (Part C) incorporate Part A & B benefits. Most include prescription drug coverage and may provide additional benefits such as vision and dental.
What You Need to Do During Open Enrollment
If your personal situation has changed, then now is the time to review your coverage under your existing Medicare plan and, if necessary, switch plans before December 7th. If you do make a change, it's important to remember your new coverage won't begin until January 1st.
Regardless of changes, it is recommended you compare available Part D and/or Medicare Advantage plans (Part C) each year as the benefits and costs vary widely between plans and are subject to change annually.
Please note that individuals who did not enroll in Medicare Part A & B when first eligible (i.e., at age 65 during their 7-month Initial Enrollment Period or during a Special Enrollment period, if eligible) must wait until the Medicare General Enrollment period (January 1st, 2023 to March 31st, 2023. Enrolling late in Part B and/or Part D may result in a late enrollment penalty).
Tip: Medicare offers a plan finder tool to help you compare plans. A Medicare specialist in your area can also help you find a plan that fits your healthcare needs.
Understanding Your Initial Enrollment Period
If you aren't yet 65 (even if you're close to it) this upcoming open enrollment is not the period in which you sign up for Medicare. In fact, the process for initial enrollment in Medicare differs from enrolling/changing your plans in subsequent years.
Your initial enrollment period (IEP) is seven months, giving you plenty of time to find a plan that works for your needs and avoid late penalties. The seven-month IEP includes the three months before you turn 65, the month you turn 65, and the following three months after that (Exception: If your birthday falls on the first day of the month, the whole IEP moves forward one month. For example, if your birthday is May 1, your IEP begins January 1 and ends July 31). You can sign up for Parts A, B, C, & D during your IEP.
Are You Still Working After 65?
If you plan to continue working past age 65, the first step to take when your IEP begins is to ask your employer if you have creditable coverage. Creditable coverage relates to your employer's plan prescription drug coverage and can be as good as, or better, than what Part D would offer. It also indicates whether your employer's plan will act as the primary or secondary insurer to Medicare. Lastly, having creditable coverage may allow you to bypass penalties for not enrolling in Medicare during your IEP and provide for a Special Enrollment Period at a later date.
If you do not have creditable coverage, sign up for Medicare within the first three months of your IEP to avoid gaps in coverage and potential penalties. Typically, if your employer's insurance coverage is for less than 20 people, it is not creditable, and will terminate once you reach age 65, or become secondary to Medicare. Most COBRA coverage is also not creditable.
If you do have creditable coverage, but do not contribute to a Health Savings Account (HSA), sign up for Part A within the first three months of your IEP. For most people, Part A is free as long as you or your spouse has been working and paying taxes for at least 40 quarters. Generally, your employer's coverage will remain your primary insurance.
If you have creditable coverage and want to continue contributing to a HSA, do not sign up for any Medicare Plan Parts. Making HSA contributions while on Medicare will result in tax penalties. Be sure to stop contributions to your HSA at least 6 months before you plan to enroll in Medicare. This is specific to HSA contributions and does not impact Flexible Spending Account (FSA) contributions.
Likewise, if you have creditable coverage and contribute to an HSA, but have filed or plan to file for Social Security benefits within six months, you should stop making HSA contributions, and opt out of Part B. Once you start receiving Social Security benefits, you will automatically be enrolled in Parts A & B, retroactive to the lesser of six months or age 65.
Final Thoughts
With open enrollment approaching quickly, begin reviewing your current plan and coverage to see if you need to make any changes. And remember, navigating Medicare and making modifications can be a challenge, so we recommend talking with a Medicare expert before making a change. For those not 65 yet, bookmark this page for future reference!
Save these Enrollment Period Dates:
Annual Enrollment Period: October 15, 2022 – December 7, 2022 (For those who needs to make changes to their plan).
General Enrollment Period: January 1, 2023 – March 31, 2023 (For those who missed their enrollment period, however you may be subject to penalties).
Medicare Advantage Open Enrollment Period: January 1, 2023 – March 31, 2023 (For those already enrolled in a Medicare Advantage plan, this is the time to make a one-time election to change to a different Advantage plan or Original Medicare).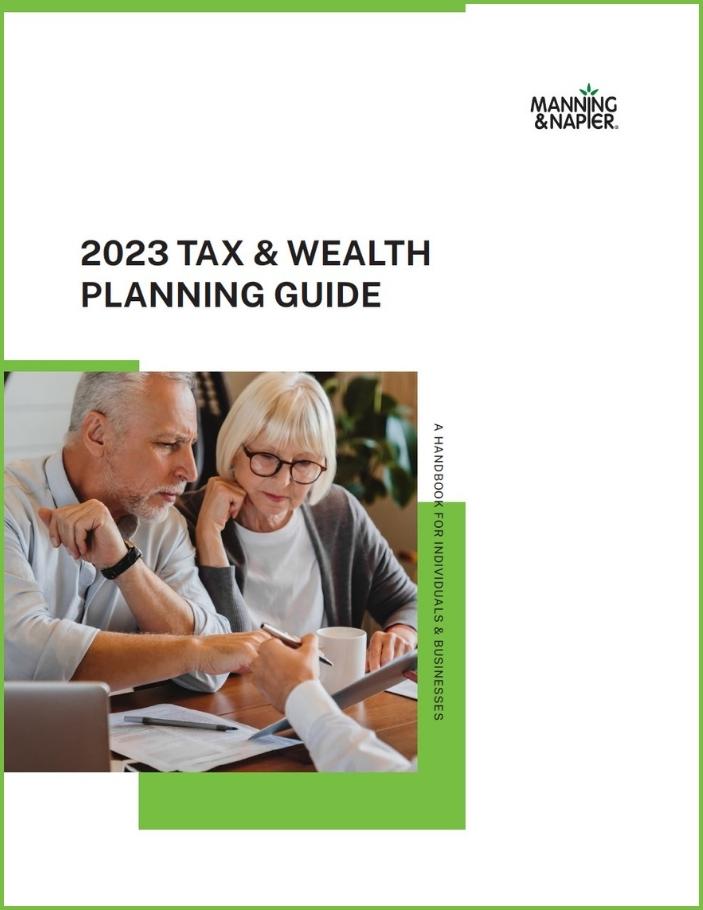 Our 2023 Tax & Wealth Planning Guide
Our nearly 60-page guide covers everything from key facts and figures to tips, tricks, and strategies to optimize your tax plan for this year. Download your complimentary copy and get the information you need to make this your most efficient tax year yet.
Download your free copy
Consult with an attorney or a tax or financial advisor regarding your specific legal, tax, estate planning, or financial situation. The information in this article is not intended as legal or tax advice.