Your Step-by-Step Guide to Creating a Living Trust
An estate plan is a vital component of the financial planning process as it helps account for the handling of your assets, no matter what stage of life you're in. Trusts are a common tool used in plans to detail out your wishes and legacy making it a powerful document for loved ones handling your estate.
Creating a trust can seem overwhelming, but our simple checklist will break down the process for you. Download your free copy today and get everything you need to get started.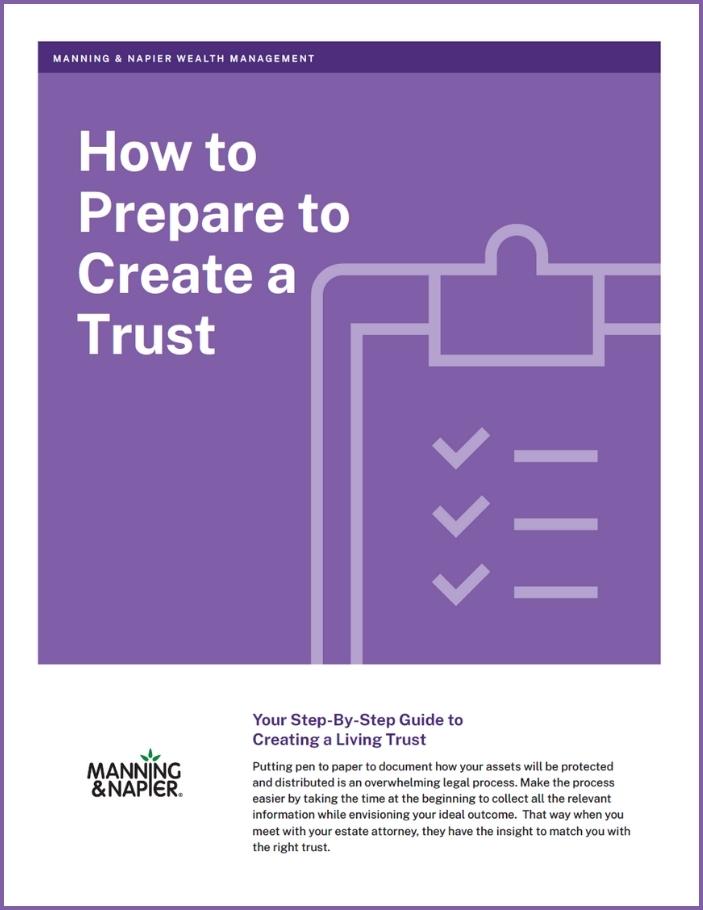 Download your Step-by-Step Guide
We can help
You've worked hard to build your financial security. A trust lets you cement your legacy your way, and we can help. Our Personal Trust Services encompass financial and estate planning strategies that are designed to safeguard your assets, vision, and legacy for generations to come.
Learn more
The information in this paper is not intended as legal or tax advice. Consult with an attorney or a tax or financial advisor regarding your specific legal, tax, estate planning, or financial situation.
Manning & Napier Personal Trust Services provided by Exeter Trust Company (ETC), a New Hampshire charted trust company and affiliate of Manning & Napier Advisors, LLC. Fiduciary trust and custody services are available through Exeter Trust Company.