Creating an endowment & foundation investment fund can be confusing. There's a lot of decisions to make, and it can be difficult to know when the timing is best for your organization. Below, we've outlined our answers to some frequently asked questions about the establishment of endowment funds.
What is an endowment fund & why have one?
An endowment fund, also called an operating foundation, is an investment vehicle that a non-profit establishes to accept and hold various charitable donations. These assets can be unrestricted, meaning the non-profit decides what to do with proceeds from the investments, or they can be restricted (i.e., endowed), where the investments are earmarked for a specific purpose as dictated by the donor.
That's the technical definition, but what are these funds really designed to do? Fundamentally, an endowment is the long-term anchor of a non-profit organization. It can be a consistent source of funding that, when managed effectively, can help an organization stay on solid financial footing across different types of environments.
In some ways, this type of account is analogous to retirement savings for an individual. Social security and a part-time job are good to have, but if you really want to feel financially secure in retirement, it helps to have a big pool of long-term, tax-advantaged savings to meet your expenses and provide sustainable support.
Is now the right time?
Many organizations face a 'chicken or the egg' conundrum when it comes to starting an endowment or foundation. Donors want to see a commitment to permanence, but sometimes it's hard to show that commitment without having assets already in place. Therefore, it's important to ensure that your mission has been clearly defined and been in place for some time. Your donors will have greater confidence in your organization if they understand your mission and if it has been supporting the community for years. Confidence is the key element here. For your donors to have trust in your cause, they want to feel a sense of permanence. In other words, they want to know that their donation will be put to good use, even if it's invested for the long-term.
One way to test if your organization is ready to start an endowment is to slowly set aside excess from operations over time. Establishing a cash reserve is a good starting point. Once that reaches a critical mass, the excess can be slowly invested into a long-term portfolio. Even small amounts saved over time can be enough to get started. If your budget can swing it, it's a good indication you might be ready to start asking donors to contribute too.
From a leadership standpoint, those interested in your cause want to see a management team that has proven to be successful and sustainable. A group of individuals that have been providing guidance for several years shows personal investment in the mission. Strong leaders foster a positive work environment, which typically creates an impactful group of individuals supporting these leaders.
Potential donors are more likely to put their faith and donations into an endowment if the leadership team and support staff are deeply involved, consistent and successful. If your non-profit has been around for some time, let your donors know this. Be proud of the reputation you've developed and don't be afraid to showcase this. From a marketing standpoint, present your organization as one that is successful, longstanding, and important to the community.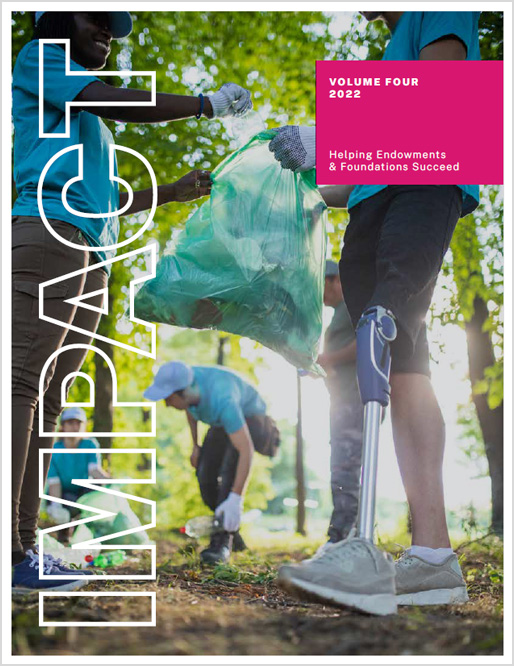 Have you downloaded your copy of Impact?
Get new ideas, fresh inspiration, and more articles like this in our most recent edition of Impact, a publication for non‑profits.
Download now
The information in this paper is not intended as legal or tax advice. Consult with an attorney or a tax or financial advisor regarding your specific legal, tax, estate planning, or financial situation.