When the COVID-19 pandemic struck last March, it laid bare the chronic issue of food insecurity. The immediate closure of schools showed us how many children relied on the healthy meals that were provided to them each day, and as unemployment levels soared, we saw the basic need for food become greater across all generations.
Food banks throughout the world were tasked with finding a way to meet this growing demand. They also had to do so at a time when staff and volunteers were adapting to new safety protocols, as well as with donors facing financial hardships of their own.
Foodlink is an organization that has been addressing both the symptoms and root causes of food insecurity in the Rochester, New York community for 40 years. Alleviating food insecurity during the height of the pandemic required a staggering 150% increase in food supplies. Rising to the challenge, Foodlink leveraged a 128% boost in public support, an over 200% increase in non-government grants, and 4,400 new donors in the first four months of the pandemic.
Foodlink is an organization that lives and breathes its core values. We caught up with members of the Foodlink team to find out how they leveraged core values and strategic planning to drive success during this challenging time.
Your organization has never been challenged to the extent it was during the COVID-19 pandemic. How did Foodlink's core values guide your organization throughout this unprecedented time?
Julia: At Foodlink, our mission is our North Star. It guides what we do. But our values are really about how we approach our work, make decisions, and prioritize. The past year was certainly unexpected, our disaster preparedness plan did not include a global pandemic!
Our values very naturally came to serve as a roadmap for how Foodlink responded to the crisis. To ensure individuals most impacted by the crisis had food—including school-aged children and homebound seniors—we had to pivot quickly and implement new partnerships and mechanisms for connecting people with food. This was all guided by our values of innovation, agility, and collaboration.
This required our staff to take on new roles. For the first few months of the pandemic, it was not uncommon to find one of our nutrition educators sorting food for hours in our warehouse, or one of our fundraisers loading cars in the freezing cold at a community distribution. All of our staff became living examples of our value of compassion, taking on this challenging and unexpected work as an opportunity to serve the community with love and respect.
What was the process you used to establish your core values? Who was involved in the development and implementation? How did your organization decide what was most important to include?
Julia: We incorporated our 'organizational values identification' into our last strategic planning process, which began in 2017. Prior to that, we had a laundry list of values that were good values but didn't feel authentic to Foodlink.
Our goal was to identify the values that already existed in our organization, as evidenced by how we carried out our work on a daily basis. With the help of Causewave Community Partners, we engaged dozens of staff members representing every facet of Foodlink in an honest conversation about who we are at our core, and what we value.
A lot of important conversations were had, but in the end, five values emerged that truly represented Foodlink. It was validating to see – three years later – those same values guiding our response to an unprecedented crisis.
How do you communicate to donors the way your organization utilizes core values? Did this communication play a role in your fundraising success this year?
Julie: An important part of our donor communication has always been to share Foodlink's story and the critical role our supporters play. We do this through mail appeals, e-newsletters, thank you notes, impact pieces, personal stories, and more.
Last year, while reflecting on the first few months of our COVID-19 we executed our crisis response and how we cared for one another. Foodlink is very fortunate to be a part of a community that shares many of these values, most notably, compassion and collaboration.
From the minute it was known that our region would be impacted, Foodlink was flooded with offers of support, inquiries about what we needed, and notes of gratitude. In those challenging, initial moments, we were comforted by the fact that our supporters understood how we live out our values each day and trusted us to do whatever it takes to feed our community. We saw our long-time supporters step up in big ways, and we also welcomed thousands of first-time donors to the Foodlink family. Since our values are a part of how we tell our story, they are most definitely a part of our fundraising success this year.
Why was constructing a strategic plan important to Foodlink? Can you tell us about the process?
Meg: Strategic planning gives us an opportunity to step back from the urgency of our work. We reflect and evaluate what we need to do as an organization to ensure we serve our community in the most efficient, equitable, and impactful ways.
We are currently working on our next 2-year strategic plan. With so much unknown about what lies ahead, our goal is to create a strategic 'framework' rather than a strategic plan. We want to identify key priorities for the next two years and ensure our staff and partners have the resources to accomplish those goals. The framework will include the flexibility to adapt how we implement our objectives based on what we learn and how the environment changes.
Our process is participatory and follows an ideation framework. We start big and cast a wide net. Through facilitated conversations, we work with each department, across staff levels, and our board to reflect on what we have learned over the last year, as well as project what success looks like in two years. We are now in the refinement stage, where we will settle on key ideas and present that back to our staff, board, and community for input and further refinement.
What advice do you have for other organizations that haven't established their own core values or strategic plan?
Meg: Strategic planning is many things and not all of them are about building 'strategy.' One of the most valuable aspects for us has been to reaffirm our mission, vision, and values and build a collective short-term vision for our staff, partners, community members, and board.
When things are so rapidly changing and the need is great, this helps us center our work. Strategic planning provides us with the opportunity to keep the end in mind and gives us the right tools to do it well.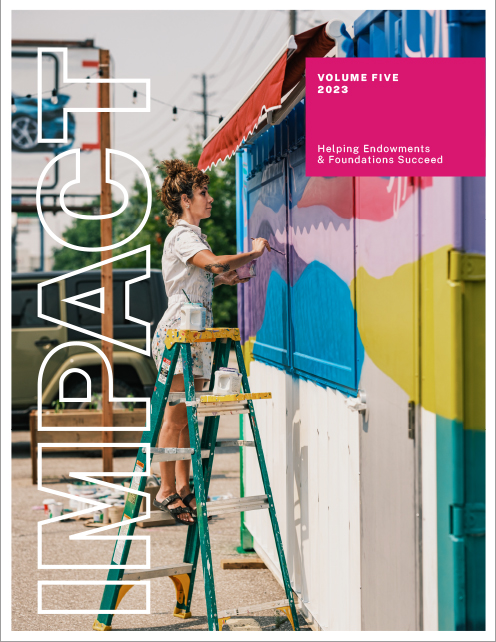 Have you downloaded your copy of Impact?
Get new ideas, fresh inspiration, and more articles like this in our most recent edition of Impact, a publication for non‑profits.
Download now