News last month that President Biden directed the Energy Administration to unleash 50 million barrels of oil from the US Strategic Petroleum Reserve (SPR) sparked renewed hand-wringing over US energy independence, as well as concerns over inflation broadly.
According to the White House, the US reserves release is being matched by similar moves in China, Japan, the United Kingdom, and elsewhere, with the hope of relieving pressure on the steady price rise, with crude having come near $90 per barrel in recent weeks. In addition, the Biden administration has asked the Federal Trade Commission (FTC) to investigate price gouging by refiners due to high gasoline prices and refining margins.
The intervention had some impact, coinciding with a mild move lower in crude oil of a few bucks per barrel. Yet the great irony is that, once again, fundamentals proved far more impactful than politics, with prices falling sharply only a few weeks later due to a plethora of economic concerns.
More Bark than Bite
It is difficult for additional supply from the SPR to meaningfully impact oil prices over the long-term. While total reserves are significant—large enough to meet US oil demand for a month—they cannot be tapped indefinitely to meet supply/demand imbalances. Large scale drawdowns of the SPR are unlikely as the intended purpose of the SPR is to provide emergency reserves. The 50 million barrels to be released amount to less than three days of domestic oil demand.
The real solution to bring down prices is either increasing supply or lowering demand. President Biden has called on the Organization of Petroleum Exporting Countries plus Russia (OPEC+) to increase supply and provide more oil into energy markets. The group has resisted those calls, preferring higher margins over volumes as they seek to bolster revenues to improve their own internal finances, among other reasons.
Their supply restraint has enabled oil prices to stage a steady but strong rally throughout the pandemic recovery. After all, it was only last April when oversupply was so severe that oil prices briefly traded for negative prices, and then spent much of the rest of 2020 in the $40 per barrel range. This created opportunity for energy investors, as production and investment dramatically fell due to low prices and declining profitability while demand was bottoming.
COVID and Oil Demand
Once global economies began to reopen in earnest late last year, energy demand started to normalize and swiftly, allowing the enormous investment opportunity to be realized. Over the past year, crude oil prices have more than doubled, rising from $38 a barrel at the end of November 2020 to well into the $80s last month.
The remarkable oil rebound held through November, until demand fears were reignited. This time, the spark was news of a new, more contagious Omicron variant. Supply can be slower to rise and fall, but demand shocks can happen quickly. The market - fearing another demand shock could be on the horizon - sold off energy aggressively, with prices falling back toward the $70 per barrel range.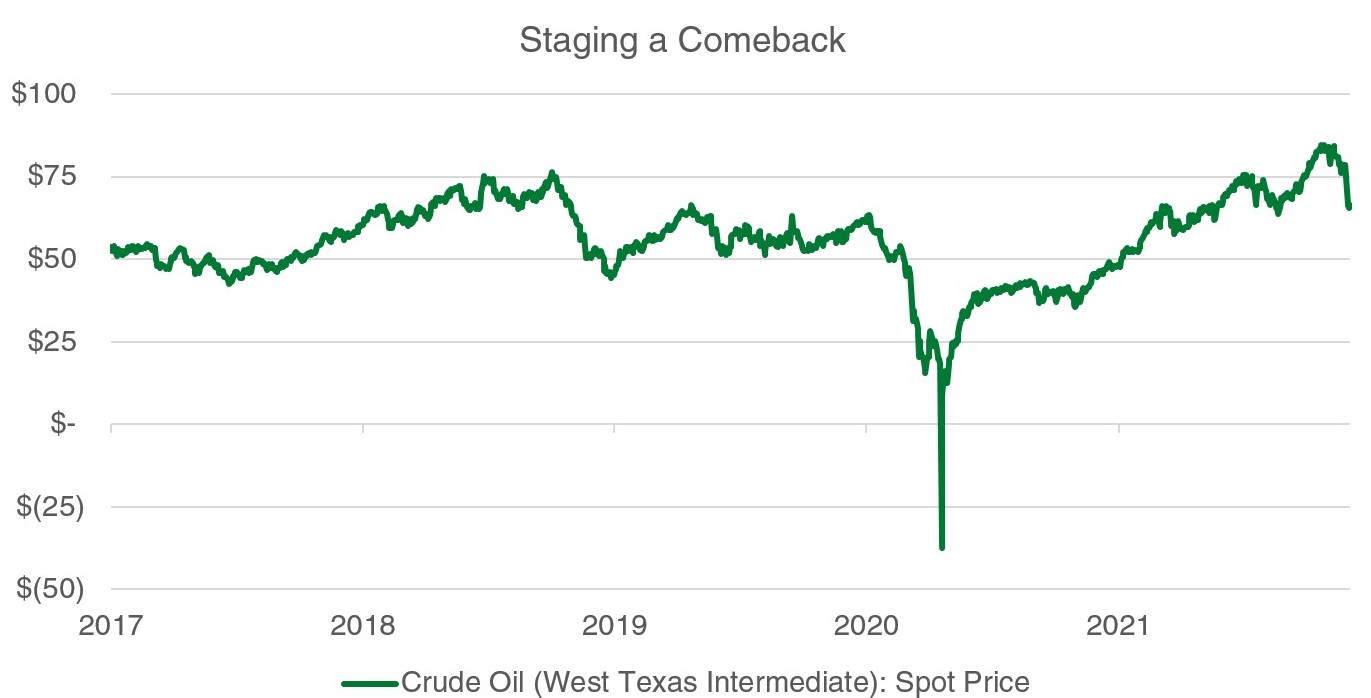 Source: Refinitiv (01/02/2017 – 12/02/2021).
Conditions and Catalysts – Our Response
While we held a significant position across various energy positions in traditional, bottom-up portfolios late last year, we have continuously trimmed our exposure throughout 2021. By the end of October, we had reduced exposure to an underweight position across most client accounts.
The decision-making process had little to do with correctly picking the timing of new COVID variants and much more to do with assessing industry conditions and making the clearest analysis possible in-line with our investment decisions.
Our Hurdle Rate strategy, designed to capture value in cyclical industries such as oil, helped identify that the supply-demand imbalance had begun to normalize and prices had recovered to levels that could incentivize investment in capacity additions and future supply growth. As those slow-moving changes unfolded, we continuously made trims to select names within the portfolio, bringing positioning to where it is today.
Looking Ahead
The latest news and subsequent oil price declines are very much on our radar. We still see upside potential for oil and gas prices as capital expenditures, rig counts, and production remain depressed. Should energy prices present us with an attractive enough entry point, we may revisit adding back to some of those previously sold positions.
Looking beyond near-term fears to long-term fundamentals, we remain convicted in our smaller position sizing. In short, while supply discipline has held for now, we know that at some point, higher prices will cause oil capital expenditure investments to pick back up, boosting supply and potentially harming prices over the long run. Additionally, the hurdle rate is timing-based and focused on conditions. At this point, an oil price above the marginal cost of supply, along with supply data such as rig counts, justifies an underweight exposure. And lastly, OPEC has been very disciplined and supportive, but remains a wild card.
News, politics, and other knee-jerk market reactions may jostle oil prices around, but over the long-run, we believe fundamentals win out.
Our research team continues to monitor these topics and more. If you're interested in hearing more of our monitoring points and views on an array of investing themes, then subscribe to our insights.
This material contains the opinions of Manning & Napier Advisors, LLC, which are subject to change based on evolving market and economic conditions. This material has been distributed for informational purposes only and should not be considered as investment advice or a recommendation of any particular security, strategy, or investment product. The reader should not assume that investments in the securities identified and discussed were or will be profitable.